Review: The Dumb House by John Burnside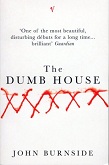 Burnside is a Whitbread award winning poet and it shows in his prose. His writing is a beautiful thing to read and his descriptions are very vivid, excessively so in place that feature extreme violence. Whilst I am happy to read and recommend this book, I am aware that due to some of the content (violence and sexual imagery), it would not be everyone's cup of tea. To this end, I would suggest you read the first two pages and if they hook you proceed. The first line is 'No one could say it was my choice to kill the twins any more than it was my choice to bring them into the world' to give you a hint.
The story itself focuses on one man's exploration of the origins of our language and the rather amoral approach he takes into this. The character is cold and divorced from his surroundings to an almost sociopathic degree. What makes the novel for me is that instead of just presenting us with this character, Burnside shows how he came to be like this tying his childhood into the present day events.
Burnside's later books are also good reads, but I found this to be his most enjoyable to date.
If you do enjoy The Dumb House, I would also recommend The Locust Room and Burning Elvis by the same author.